Home Based Business 
Online Training Classes - 
Yes YOU Too Can Learn How To Be Competent Online With Ease!
Being competent online is no accident! These free home based business online training classes can help you with the basics. So often I have seen people attempting to start a home based business but they struggle with managing basic things like, email and finding their way around a computer.
Maybe your family, children, geeky nephews or friends simply don't have the time or patience to help you with the basics. Or you just want to be independent and learn it yourself – somehow!
But where do you start?
Oh I thought you'd never ask! (wink)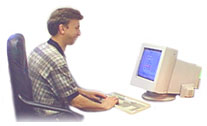 Check out these Free iNet online training classes.(No longer available)
These classes are run by a small group of online home business people who understand the frustration of learning and are willing to 'give back their time' to help others in this fabulous journey.
Register there now and take advantage of these 'no strings attached' classes.


This Weeks Online Training
Topic: Home Based Business Basics: Topics change regularly.
Date: Times change. So please register your interest to receive notification of trainings. Presenter: Delmae Bower (me): Working where your heart is in your own Home Based Business
Description: These free online trainings are specifically for aspiring home based business owners or anyone struggling with the 'how to'. Classes are usually Q & A and very focused on 'your' issues and frustrations of managing some of the basic practical issues of building a home based business. 
My Home Based Business
Publisher: Delmae Bower
This online training will be VERY interactive
It is important that you pre-register as numbers are strictly limit. So Register your interest NOW! 
Go to Keeping Track of Business 
All About Home Based Business 
Return from home based business online training to Home Based Business Home Page