Baby Boomer Trends:
Are you happy?
Baby boomer trends.
There is a shift
It use to be about WEALTH:

'get that bigger house', buy the 'nice car' and the 'toys for the boys'

NOW

Its far more about LIFESTYLE:
It's about ' time with the family', reducing the 'pressure', 'flexibility', moving to a more 'relaxed environment' and starting a business 'because I want to'..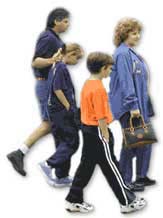 Basic Economic Problem
"Human existence has been preoccupied with the production and consumption of wealth, the desire for which seems to arise from man's basic impulse to increase his lifestyle (my word). The concepts of wealth and lifestyle, therefore, stand at the heart of economics".
Hardwick, Khan and Mead, An Introduction to Modern Economics, Longman, 1992
Build a REAL business
you're proud of:
Got a question?
Talk to a successful
SBI owner.
Are you happy?
FACT: Most people hate their job. They only go to work to earn money and the social aspects of their job.
So what is important has shifted.
The boomer trend is on the move again.
Looking for happiness in their relationships, character traits of honesty and integrity are now back in favour along with an interest in spirituality and the desire to start a business 'because they want to'.
Lifestyle Revolution
In front of the boomer trends for better lifestyle is Network Marketing, simply because it allows you to:
work when you like,
where you like
as much as you like.
And it is not only the boomers but their children who are looking for the ultimate, lifestyle and happiness.
A great resource to help figure is the book, "How to Own Your Life" you can get the first chapter for free here. 

Baby Boomer Income 
Baby Boomer Trends 
Baby Boomer Demographics 
Retirement Planning Baby Boomer 
My favourite business and residual income 
Return from boomer trends to Home Based Business Home Page
U.S.A. | Canada | Australia | New Zealand | United Kingdom