Free Inspirational Wallpaper
I originally created this inspirational wallpaper for myself. When building your own home based business it is really important to inspire yourself first not only with pictures but also positive thoughts each day. That's why I added these inspirational pictures from some of our family holidays Inspire your self first and your inspiration will then inspire those around you and attract people to you.
Seeking working partner to
Build local sales team. 
Professional with experience in sales and/or
Training to work the same
I found this quote in Napoleon Hill's book Succeed and Grow Rich through Persuasion. (palm tree)

The more I looked at this beautiful nature wallpaper the more I wanted to share this with you, my reader. There is something special about nature. The calming effect it has on you and feelings of peace and joy.
Simply click on the image below to open a larger version in a new window and be inspired!
Be inspired
in your own home based business. Remember you don't have to get it right you just have to get your own home based business started!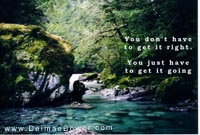 Stopping along the banks of the Dart River (above right) you can take short walks to find small creeks feeding into the larger river. The water is pure, fresh, cold and very very clear. The stillness, peace and quiet refreshes the soul. 

This beautiful scenery wallpaper are pictures I took of various locations on our trip to the South Island of New Zealand last year. Dart River (below left) was the location for the movie Lord of the Rings . 

Milford Sound (below right) is probably one of the wetest area's in the world with and very high rainfall. We were fortunate to pick a day when the sun shone bright with clear blue skys!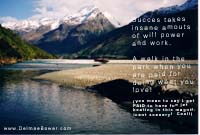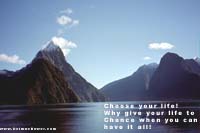 That's the fabulous thing about having your own home based business...you call the shots!
I certainly hope you are inspired each day by this beautiful scenery wallpaper as much as I am.
You can download this free inspirational wallpaper by simply right clicking your mouse and save as background.



Looking for some added daily inspiration?
Apart from these inspirational wallpaper and pictures I also love a daily dose's of written..I've found these particularly inspiring may you will too.
Decent Honest Hardworking People Frustrated with Current Circumstances

Now with retirement looming I see all around me decent, honest, hardworking men and women trying to figure out how to retire comfortably, or find ways to be at home with the kids, contribute to your family finances AND STILL have a life.

It doesn't have to be that way.
What I have found is so profound, I just HAVE to share it with others...
So are YOU fed up with having your choices limited by lack of money?
Do yourself a favour and take the tour for yourself and your families sake.... you are just moments away from changing your lives...take the tour now...